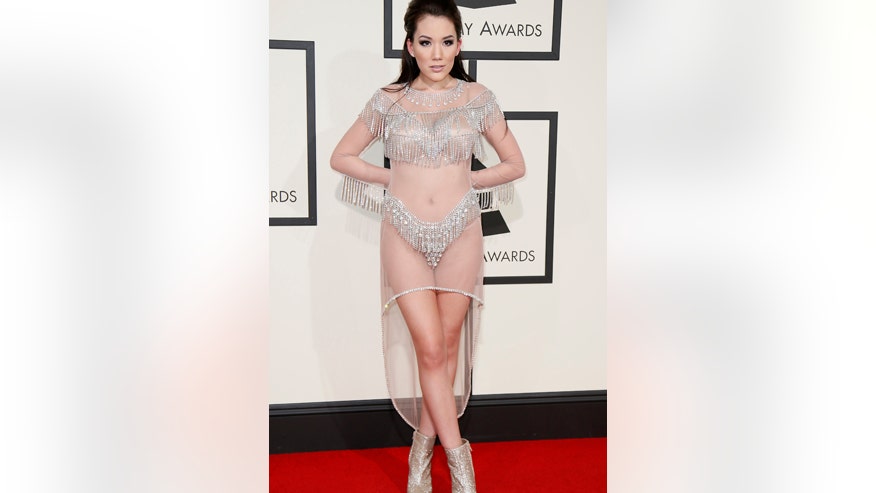 We're not sure what Manika was thinking in this strange ensemble.
Who hit a fashion high note on the Grammy Awards red carpet?
Monday night's Grammy Awards were filled with energetic performances from A-listers, but some were better received than others.
Powerhouse vocalists Adele and Carrie Underwood were heavily criticized on social media for their performances.
I like country music, I like both of these artists. This performance is the worst & it hurts. #Grammys2016

— Megan Gil (@megsg19) February 16, 2016
Adele is all over the map with these notes. I feel like she's going to pass out and fall off the stage. Security! #Grammys

— David Friend (@dj_friend) February 16, 2016
But Ellie Goulding and Andra Day impressed viewers.
This performance is absolutely amazing @elliegoulding@AndraDayMusic#GRAMMYs

— samantha (@samsinopoli) February 16, 2016
Meanwhile, other stars had a much better night. Record of the Year went to "Uptown Funk" by Mark Ronson featuring Bruno Mars, Meghan Trainor won new Artist of the Year and Album of the Year went to Taylor Swift for "1989."
"Thank you to the Grammys. I love you so much," said a teary-eyed Trainor, who also thanked her parents and Epic Records CEO L.A. Reid.
The show took a turn for the serious when Kendrick Lamar took the stage with chains around his hands and a bruise on his eye. He went on to fuse rap, jazz, reggae and African sounds for a commanding performance as he rapped "The Blacker the Berry" and the Grammy-nominated "Alright" passionately, receiving a standing ovation. Lamar also took home the first award presented on the live CBS telecast, winning best rap album for "To Pimp A Butterfly," one of five he won on the night.
"First off, all glory to God, that's for sure…this is for hip hop…we will live forever," Lamar said as he accepted his award.
Swift opened the show by performing "Out of the Woods" in a sequined jumpsuit, a departure from her red carpet attire, which had featured a tiny coral orange top. By the time she took the stage, Swift had already won two Grammys during the show's pre-telecast.
Host LL Cool J followed Swift's performance with a powerful message about music. "With all that divides us today, our shared love of music unites us, all of us," he intoned.
The show at the Staples Center featured tributes to three music legends who passed away earlier this year. Lady Gaga performed in David Bowie-inspired makeup and gear as she ran through 10 of the icon's hits, including "Space Oddity," "Changes," "Fame," "Let's Dance" and "Heroes." Stevie Wonder, joined with Grammy-winning a capella group Pentatonix, sang "That's the Way of the World" in honor of Earth, Wind & Fire founder Maurice White, while members of the Eagles and Jackson Browne sang "Take It Easy" for Glenn Frey.
One performer missing from the show was Rihanna. The singer's representative said in a statement that the pop star couldn't perform at the show due to doctor's orders.
"After Grammy rehearsal today, Rihanna's doctor put her on vocal rest for 48 hours because she was at risk of hemorrhaging her vocal chords. The antibiotics she has been on for three days did not kill the infection adequately therefore she cannot perform safely," the statement read.
Ed Sheeran walked away with his first-ever Grammy, winning song of the year for "Thinking Out Loud."
"We wrote it on a couch in my house," he said of his hit song, which also won him best pop solo performance. The night also marked first wins for Justin Bieber, the Weeknd, Chris Stapleton, Pitbull and Alabama Shakes.
The Weeknd, who won two awards in the pre-telecast, performed in a cube that was brightly lit for "Can't Feel My Face" until he switched to piano-tinged version of his upbeat hit "In the Night."
Stapleton, who has written for dozens of country acts, won best country album for "Traveller."
"This is something you never ever dream of so I'm super grateful for it," he said.
Stapleton was nominated for four awards, including album of the year, but lost best country song to Little Big Town's "Girl Crush." The foursome, who also won best country duo/group performance, earned a standing ovation when they performed the hit.
The Associated Press contributed to this report.