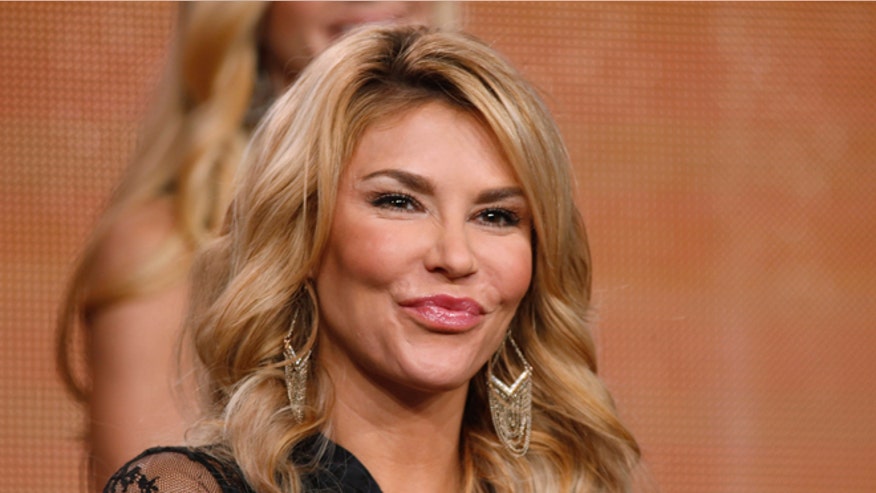 January 16, 2015. Participant Brandi Glanville speaks about the NBC television show "The Celebrity Apprentice" during the TCA presentations in California. (Reuters)
Brandy Glanville isn't about to let an ex hold something over her.
After posting a NSFW nude snap of herself wearing nothing but a thong earlier this week on Instagram, the "Real Housewives of Beverly Hills" star suggested in her PodcastOne show, "Brandi Glanville Unfiltered", that the whole thing came about due to a passive-aggressive ex.
Click here to subscribe to FOX411's YouTube channel
"First of all, I'm very proud of my body," the reality star explained, before claiming that a former flame she was texting this week "very passive- aggressively, made it known and made me very well aware that he had a lot of sexy pictures with me, so I had better be nice to him in the press."
WATCH: Brandi Glanville Says LeAnn Rimes Put Her Through 'Hell' During the Holidays
"For me…I'm like, 'That's blackmail. That's like passive-aggressive blackmail,'" she continued. "So I went in and looked at what I sent him, and I thought, 'You know what? This is probably the most naked one I sent him, and I'm just going to get out in front of it, put it out there."
"I know I'm going to get hate for it, but my a** looks good," Glanville added. "I'm happy with it, and what's he going to do?"
PHOTOS: Hollywood's Hottest Bikini Bods!
On the pic itself, Glanville cited Kim Kardashian as the inspiration, writing, "I've struggled with wanting to post this but I've worked so hard on my body & at 43 after 2 kids I'm very proud. I love that @kimkardashian makes the point that moms are hot even after kids and post sexy selfies. I've prepped for the haters & was given the blessing of my family! Zero filters zero photo shop #ankle weights work!"
WATCH: Brandi Glanville and LeAnn Rimes' Ex Recall the Moment They Knew Their Marriages Were Over