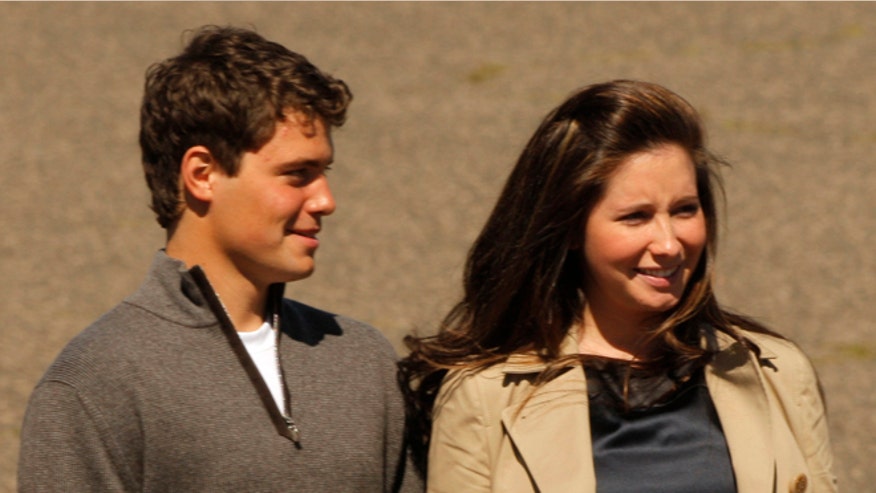 September 3, 2008. Bristol Palin stands with her boyfriend Levi Johnston during the arrival of US Republican presidential candidate Senator John McCain at the airport in Minneapolis, Minnesota. (Reuters)
Bristol Palin and her ex Levi Johnston are squaring off over child support.
Palin, 25, allegedly hasn't received the proper payments from her ex for their 7-year-old son Tripp since 2009, and now an Alaska court must decide how much he owes her in back payments, as well as what his future child support obligations will be.
Click here to subscribe to FOX411's YouTube channel
"Levi is a great dad," Palin told ET in a statement. "We have a great co-parenting relationship and Tripp loves him."
WATCH: Bristol Palin Disses Tina Fey: Sarah Palin Trumps Her in the Looks Department
Palin's rep, David Martin, explained that his client and Johnston, also 25, are currently awaiting the court's decision to "wrap up this case."
"Child support in Alaska is calculated based on a mathematical formula in the Civil Rules. The parties are not allowed to use a different formula or forgive or excuse nonpayment," Martin said. "They are also not allowed to demand or accelerate payments. The court is charged with figuring out the amount of past child support as well as the future child support obligations."
WATCH: Bristol Palin Responds to Conspiracy Theories About Daughter Sailor's Birth Date
Palin isn't letting the ongoing legal battle affect her kids, however. She posted a sweet Instagram shot on Thursday with Tripp and her infant daughter Sailor, who was born in December, captioning the pic, "my babies."
WATCH: Bristol Palin's Brother Trig Cradles Baby Sailor: 'He Officially Loves Her'