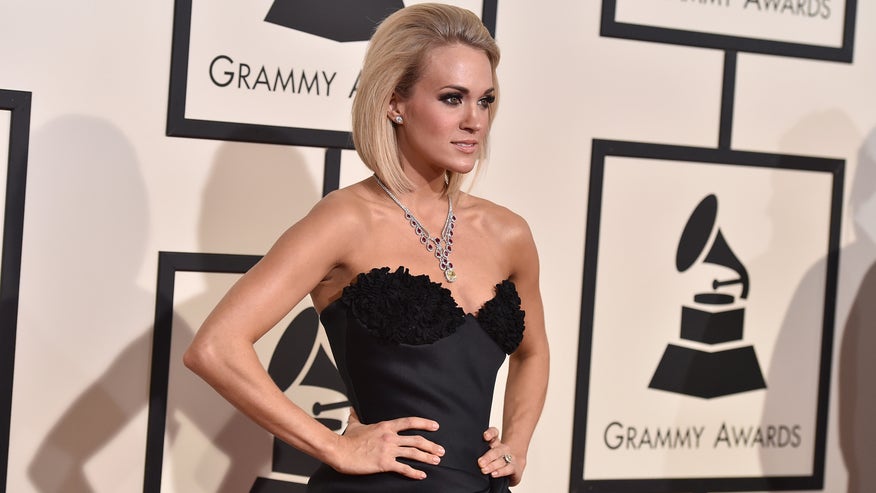 Carrie Underwood arrives at the 58th annual Grammy Awards at the Staples Center on Monday, Feb. 15, 2016, in Los Angeles. (Photo by Jordan Strauss/Invision/AP)
Diamonds are indeed a girl's best friend.
Carrie Underwood stunned on the GRAMMYs red carpet in a gorgeous black Nicolas Jebran gown that showed a whole lot of leg, but her sparkly diamond necklace also caught everyone's attention — and it turns out it's a Valentine's Day gift from her husband, hockey pro Mike Fisher.
"It was a Valentine's present, that I don't deserve," the 32-year-old singer told ET on Monday. "It's mine to wear, so whenever I feel like it, I can be in my sweat pants, making dinner, wearing my necklace."
However, Carrie did reveal that she wasn't exactly surprised at the extravagant gift. "I kind of knew it was coming. We had been helping and working with designer Jonathan Art to make something special," Carrie shared. "We don't do a whole lot of gifts often, it was nice. This is many years' worth of gifts."
WATCH: Carrie Underwood Says Her Marriage Is Good While 'Everyone Is Getting Divorced'
Obviously, the wait was totally worth it.