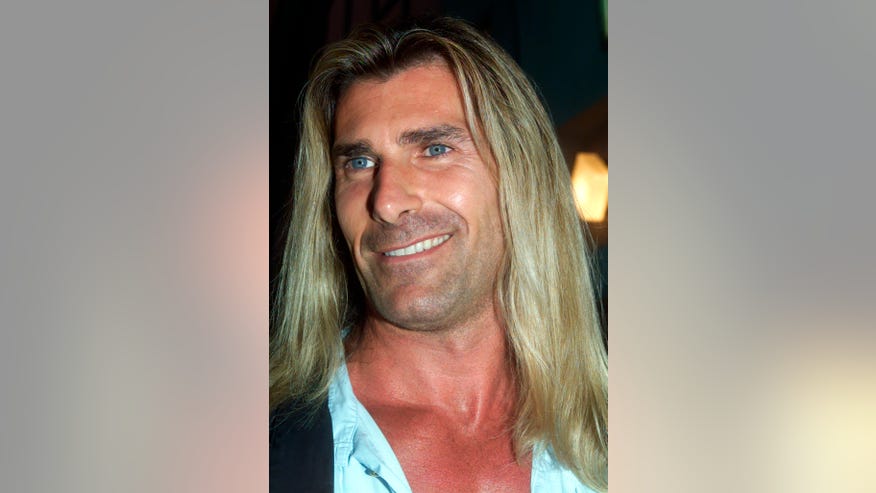 Actor and model Fabio poses as he arrives for the premiere of Rodney Dangerfield's the new film " My 5 Wives" August 28, 2000 in Santa Monica, California. The comedy film stars Dangerfield as a millionaire who tries to buy land in Utah and ends up with five wives. The film, also features Fabio and opens September 8 in the United States.RMP – RTR7ORB
LOS ANGELES – Fabio, one of the most iconic Italian models and actors seen on countless romance novel covers and I Can't Believe It's Not Butter commercials, is celebrating the biggest honor of his life—becoming a United States citizen.
"It is the biggest honor I have ever had in my entire life," he told FOX411. "First time I came to this country I was 14 years old, and I totally fell in love with the country as soon as I stepped off the plane. For the first time I felt I was home."
On March 16, Fabio officially became a United States citizen as he took his oath at the Los Angeles Convention Center, along with nearly 6,000 others from 140 countries.
"I remember my first love when I was 14 was the United States and yesterday I married my first love," he said…I will go to war for United States; I wouldn't go to war for Europe or Italy."
First time taking the pledge as a #newUScitizen! #WelcomeFabiopic.twitter.com/I2RGoiBwj9

— Claire Nicholson (@USCISMediaLA) March 16, 2016
America just got better hair! #WelcomeFabio#newUScitizenpic.twitter.com/wmbkzlmnHA

— Claire Nicholson (@USCISMediaLA) March 16, 2016
This citizenship comes days after his most recent I Can't Believe It's Not Butter commercial was released. In the latest ad, Fabio shoots out of the blowhole of a talking whale.
"I Can't Believe It's Not Butter is a healthy product and it tastes great!" he said. "They are like a family. I've been with them for 20 years. It's a record! They are great people to work for. We always go different places around the world shooting different commercials and its fun! When was the last time you remember someone doing commercials for one company for 20 years?"
Fabio just celebrated his 57th birthday.
"My birthday was March 15th and I got my citizen on March 16th, so to me that was the best birthday present I got in my life," he said.
The star shared his goals and hopes for the year to come.
"[I want to] live my life in this country– live minute by minute and enjoy every single minute. I love the people here and I love this country. I love this country so much, every time I leave the country—doesn't matter where I go all over the world—I cannot wait to come back."