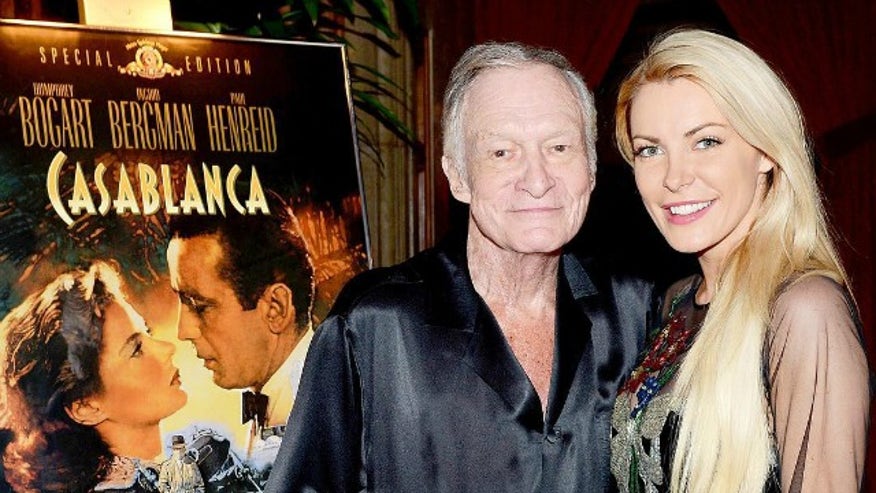 Hugh Hefner and his wife Crystal. (Instagram)
It's a landmark birthday and a cause for celebration, but Hugh Hefner's 90th birthday came just one day after the death of his younger brother, Keith Hefner.
The Playboy mogul marked his birthday on Saturday with a viewing of his favorite movie, the 1942 Humphrey Bogart and Ingrid Bergman classic, "Casablanca." Hugh's wife, 29-year-old Playmate Crystal Hefner, posted a pic beside the film's poster. "Happy 90th to a man with a heart of gold," she wrote.
Click here to subscribe to FOX411's YouTube channel
WATCH: The Playboy Mansion Is for Sale for $200 Million, And You Get Hugh Hefner As A Roommate
Hugh thanked his fans for their birthday wishes with this fun black-and-white throwback pic. "Looking forward to a night with friends and family. Thank you for the birthday wishes," he said.
On Friday, the Hefner family mourned the loss of Keith, a former Playboy executive and occasional actor, who died at age 87 from cancer. Hugh confirmed the news on Twitter. "This morning, my dear brother and best friend passed away.," he wrote. "I love you, Keith. Rest in peace."