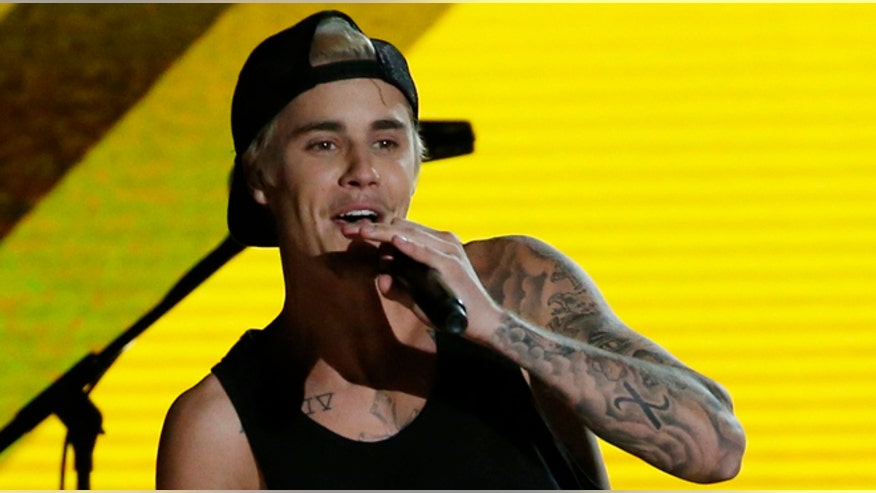 February 15, 2016. Justin Bieber performing at the 58th Grammy Awards in Los Angeles, California. (Reuters)
This would be a good time for Justin Bieber to ask, "Is it too late now to say sorry?"
The Canadian crooner kicked-off his "Purpose" World Tour on Wednesday at KeyArena in Seattle, but unfortunately for Bieber, his performance that night wasn't the main attraction. Instead, his official concert T-shirts got all of the attention due to one pretty incredible typo.
WATCH: Justin Bieber May Have Gotten a New Nose Piercing
Click here to subscribe to FOX411's YouTube channel
Fans quickly realized that the $40 concert tees were printed with the word "purpose" misspelled. The back of the merch unfortunately read, "Many are the plans in a person's heart, but it is God's purose that prevails."
It's a pretty egregious error, seeing as that's the name of both the tour and the "Sorry" singer's latest album. But also missing? The source, which is Proverbs 19:21, not, you know, Bieber himself.
Bieber's rep told TMZ that fans who purchased the shirts can exchange them for corrected replacement tees, but we're willing to bet that the misspelled versions will quickly become collector's items.
The 22-year-old singer's official tour garb may need an update, but his '90s-inspired performance looks do not. Despite critics bashing Bieber for wearing a Nirvana band t-shirt by the brand Fear of God to last year's American Music Awards, his on-stage looks seem to be inspired by Seattle grunge.
Getty Images
NEWS: Justin Bieber Says He Wants to 'Settle Down by the Age of 30' and Have Kids
In fact, Bieber's longtime stylist, Karla Welch, revealed to Billboard that she worked with the L.A. brand's designer, Jerry Lorenzo, on five of Bieber's current tour looks.
Welch combined the Fear of God looks with pieces from Raf Simons, as well as Adidas shoes and long, custom-made T-shirts for layering. "I could see the looks changing from concert to concert with the way Justin chooses to style them," Welch told the music outlet.
While Bieber has plenty of options for clothes to wear throughout his "Purpose" tour, we're pretty big fans of the shirtless looks he rocks on-stage.