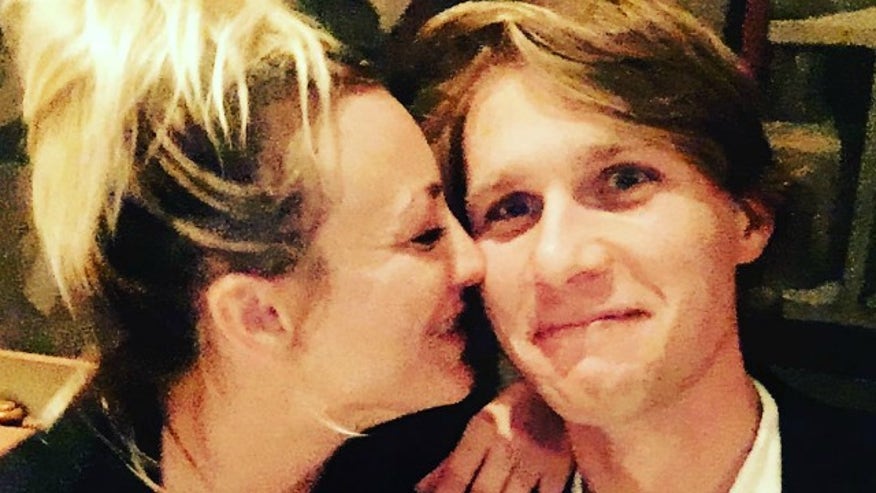 Kaley Cuoco and Karl Cook. (Kaley Cuoco/Instagram)
Kaley Cuoco is happy and she wants everyone to know it!
The "Big Bang Theory" star shared a cute new photo with her possible new man, Karl Cook, 25, on Instagram on Friday.
WATCH: Kaley Cuoco Shares Playful PDA Pic With Mystery Man — Meet Karl Cook
Click here to subscribe to FOX411's YouTube channel
The photo shows the 30-year-old actress nuzzling into the billionaire heir, in a sweet snap that she captioned, "This is what happy looks like."
Their romantic relationship hasn't officially been confirmed, but the flirty pics Cuoco has posted with her fellow equestrian certainly seem to point in that direction and the two were also recently spotted out together at the BNP Paribas Open tennis tournament.
The potential romance comes on the heels of a recent Cosmopolitan interview for the actress, where she opened up about the end of her marriage last year, to tennis player Ryan Sweeting.
PHOTOS: Kaley Cuoco and Karl Cook Are Too Cute Together! See the Pics From Their Adorable Tennis Outing
"[What happened] changes the way I look at marriage, and that makes me sad," Cuoco said at the time. "It does not change the way that I look at love. I cannot wait to be in love again. I don't feel like I am ready yet…which is so different for me. I dive into everything."