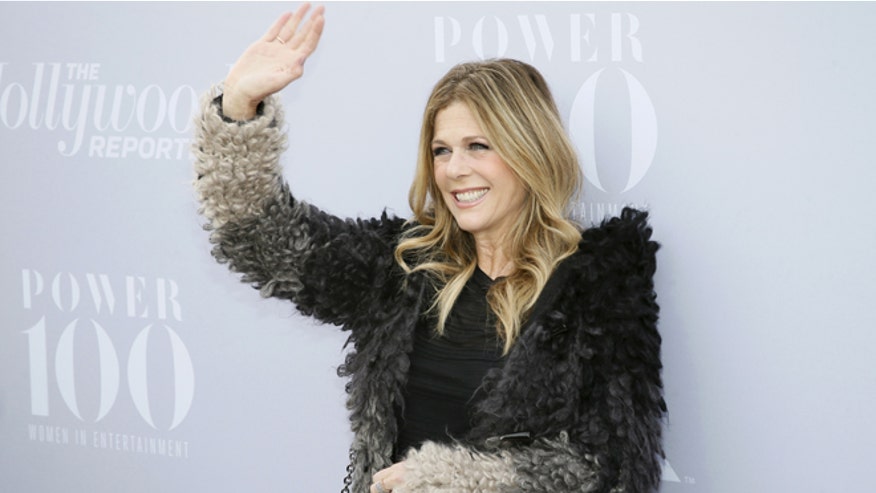 December 9, 2015. Actress Rita Wilson poses at The Hollywood Reporter's Annual Women in Entertainment Breakfast in Los Angeles. (Reuters)
Rita Wilson is healthy now, but during the darkest days of her cancer fight, she turned to music to help her through.
"Music is a thing that actually can change your mood no matter what you're doing, whether it's listening to music or being able to write these songs," Wilson told ET. "It's been an amazing outlet not only when you're feeling sad, but when you're feeling happy too."
NEWS: Rita Wilson Opens Up About Being Cancer Free
Click here to subscribe to FOX411's YouTube channel
The actress and singer's self-titled album, out now, features songs about her entire life, including her 27-year marriage to Tom Hanks. Hanks makes a cameo in her music video for "Girls Night In," and he'll be traveling with Wilson on her 21-city spring tour.
In addition to her tour, Wilson has also been busy producing and acting in "My Big Fat Greek Wedding 2." John Corbett, 'NSYNC's Joey Fatone and the whole cast are returning for the sequel.
"Since the first movie came out, what surprises me over and over again is how everyone sees their family in this family," writer and star Nia Vardalos said in a behind-the-scenes clip.
NEWS: Rita Wilson on Tom Hank's Support During Her Breast Cancer Battle
In the follow-up to the 2002 hit film, Gus (Michael Constantine) and Maria (Lainie Kazan) learn that the priest who officiated their wedding forgot to sign their wedding license. Thus, the family sets out to throw a bigger, fatter, Greeker wedding. Meanwhile Toula (Vardalos) and Ian's (Corbett) daughter Paris (now played by Elena Kampouris) is all grown up, but Toula doesn't want her to leave the nest.
"When I'm approaching a screenplay, I try to pull from my real life," Vardalos said. "Now I know what it's like to be a mom. I can write about all the angst of wanting to keep my daughter close, but knowing it's best for her to go."
WATCH: Nia Vardalos and John Corbett Are Back in 'My Big Fat Greek Wedding 2' Trailer