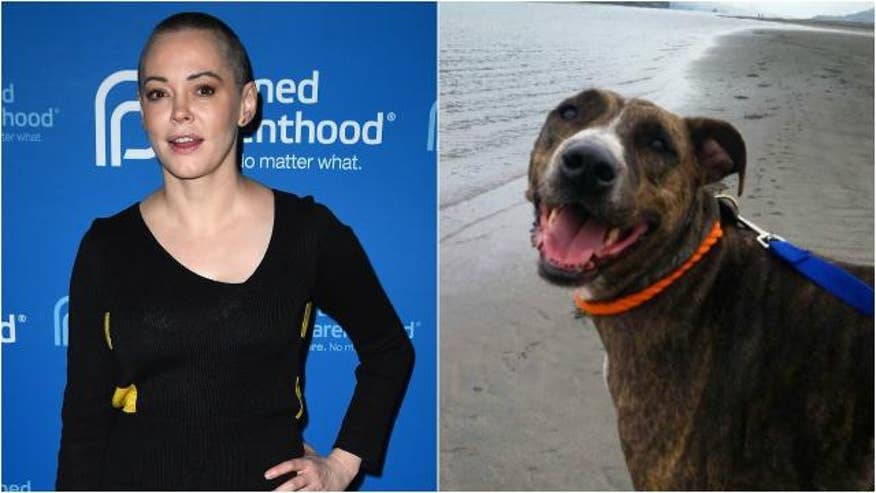 Rose McGowan and her dog.
Rose McGowan is being sued for negligence stemming from an incident involving her dog last July.
According to court documents obtained by ET, Elna Ebner claims the former "Charmed"star's rescue dog, Mrs. Noodle, knocked her over in Los Angeles, and that she allegedly suffered permanent brain damage after her skull was cracked.
Click here to subscribe to FOX411's YouTube channel
WATCH: Rose McGowan Says She Blames Breakup With Marilyn Manson on Cocaine Use
The civil suit further alleges that the plaintiff is suffering "severe emotional distress and mental suffering," and seeks medical and incidental compensation for her injuries.
ET has reached out to McGowan for comment.
PHOTOS: Hollywood's Most Memorable Mugshots
The 42-year-old actress has acknowledged the incident occurred but says she was not responsible, according to TMZ.
"Elna walks through the neighborhood every day," McGowan said. "She's a trouper. I was working in NYC when my dog walker stopped to talk to two of my neighbors, an 85-year-old mother and her older daughter. My sweet-as-pie foster dog, Mrs. Noodle, a large but terribly gentle mixed breed, put her paws on the knees of a woman that stands 4'7. The woman was standing on the hill's 65 percent incline."
"This terribly sad accident was an unfortunate sequence of events," she added. "Do I wish this tiny elderly woman hadn't stopped to talk to my foster dog? Yes. Did it happen? Yes. Am I responsible? No."