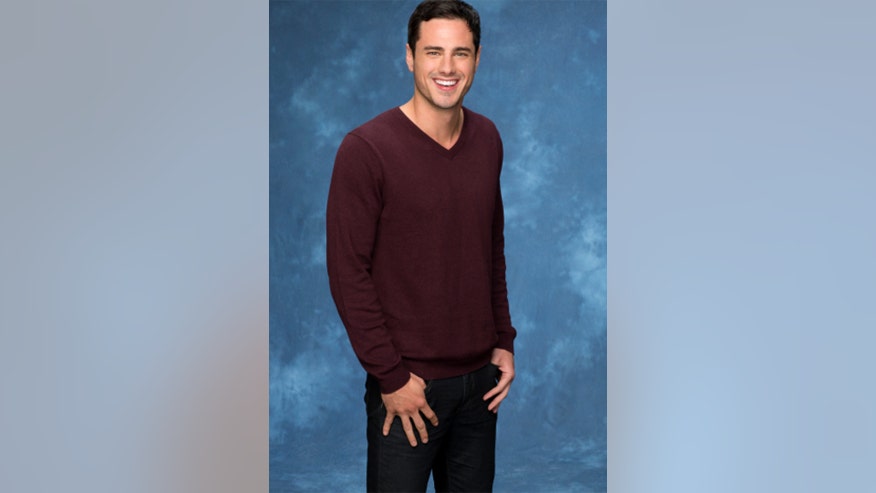 Ben Higgins of ABC's "The Bachelor." (ABC)
"The Bachelor" star Ben Higgins told both of his final two women he loved them, but he could only choose one on the show's climactic conclusion.
At the end of Monday night's agonizing finale, Ben got down on one knee and asked Lauren Bushnell to marry him after he had rejected JoJo Fletcher.
Host Chris Harrison began the show by telling a live studio audience that there might be a wedding that very night and Ben's pastor was on hand to preside over the nuptials if need be. Then viewers were sent back in time to Ben not wanting to say goodbye to either one of his final two beauties in Jamaica.
He admitted to his parents he loved them both, a fact mom Amy said was "really disturbing."
Both women had met Ben's folks, with Amy warning Lauren that her son got emotionally worked up and she would have to talk him "off the ledge." Later, JoJo told Ben's dad that Ben was her best friend.
But the parents didn't swing Ben's decision, as they thought both women were great and both had said they loved him.
Later, after smooth sailing on a date with Lauren in Jamaica, Ben told the cameras he'd gotten through some turmoil with JoJo, and maybe things with Lauren were "too perfect." Next, fans saw Ben going on his final Jamaican date with JoJo. They wound up swimming in a watering hole and the bachelor told her he was confused.
JoJo was concerned that he still seemed torn, saying in confessional, "I hope I don't end up looking like a fool."
Later, JoJo confronted Ben and he got teary-eyed insisting he cared about her. They went into a bathroom together out of camera view but audio caught JoJo complaining, "You love her, too."
"Yes," he replied, then admitted he'd also told Lauren he loved her.
"I just feel foolish," JoJo said. "I'm so tired of competing, you know?"
However, by the time Ben met with jeweler Neil Lane, he finally knew who he would propose to and selected a huge diamond ring. Ben waited with his final rose on the beach and said although he loved the woman whose heart he would break, "I love somebody more."
On cue, JoJo arrived by helicopter trusting that Ben wouldn't let her down, but sadly, he soon did.
JoJo recalled all their moments together on the show and sobbed, "I love you with all my heart."
But Ben told her, "I found [love] with you but I found it with somebody else more."
JoJo said, "I'm so confused and blindsided … where did it go wrong?"
"It never did," Ben insisted. As JoJo left, she said he shouldn't have told her he loved her.
"I fell in love with two people," Ben responded, giving her a hug before putting her in the limo out.
Ben cried on camera that she didn't deserve it, but he loved Lauren so much that he had to say goodbye.
Ben called Lauren's father to ask for her hand in marriage before the blonde flight attendant joined the bachelor for his decision.
He didn't let her down, saying, "Lauren, I never want to say goodbye to you. I want to wake up every morning and kiss you on the face. I want to spend the rest of my life with you."
Getting down on one knee with the ring, Ben asked, "Lauren, will you marry me?"
"Yes," she laughed joyfully, followed by lots of kisses.
On "The Final Rose" special that followed, Ben told host Harrison he chose Lauren because he couldn't picture life without her. Ben said he'd always care about JoJo, but "my life has moved on" to a committed relationship with Lauren.
JoJo made an appearance, and said that after watching the season, she realized Ben had a stronger connection with Lauren and graciously told the couple, "I'm really happy for you guys."
JoJo said, she, too has moved on –but not from reality TV, as Harrison announced she would be the next "Bachelorette".
Soon, Lauren joined Ben on the Bachelor couch and they said how relieved they were to finally make their love public. Los Angeles resident Lauren said she'll move to Denver to be with Ben.
Harrison challenged Ben to get married to Lauren that night, as his pastor was standing by, but Ben said he owed it to their friends and family to have a proper wedding.
Instead, Ben proposed a second time to Lauren in front of their assembled kin. Of course, she said yes and Ben promised the crowd the wedding would happen soon.
Time will tell.